Note: There is individual guidance for each course on the course pages. Select your course from the menu above.
Request student letter for Adobe/Autodesk
Adobe Creative Cloud Download
Photoshop, Illustrator, Indesign and After Effects
You will need to download Photoshop, Illustrator, Indesign, (Computer Graphics) Premiere and After Effects (Motion Graphics) and Adobe XD (Web design) from the Adobe.com creative cloud for your course.
The only legal way to obtain the software is via the Adobe.com subscriptions which give you to use all the Adobe software online.
Adobe.com do not offer the option to buy it outright any longer.
Anyone who offers to install it on your computer (for free or for a minimal charge) is likely to be installing a copied version.
Instructions:
Sign up for a monthly subscription to Adobe Creative Cloud.
The student edition of Adobe Creative Cloud costs $19.99 per month for the first year (price will be different for subsequent years).
To sign up for the student edition, you will be asked for the name and address of your school. Please note that Design Alive does not appear on the list of schools on their website, and it is usually sufficient to write Design Alive, Manchester UK.
Adobe's US number for purchase by phone is 800-585-0774.
Autodesk Download Instructions
Autocad and Revit Download Instructions:
Before you download:
You will need to make an account with Autodesk.com
Check your computer has the correct specs needed. A i5 processor minimum is needed as well as a graphics card. For more specific specs check here.
Autocad can be downloaded via this link. Please download version Autocad 2022, Please see screenshots below for step by step instructions. Please do not download the 30-day trial as you will have to uninstall the trial (one it expires) and reinstall the student version as per these instructions.
While AutoCAD is available in both PC and Mac platforms since the interface on a Mac is different and the locations for the icons are located in different places, we don't recommend learning on a Mac as the teacher uses a PC. (Once you know Autocad, you'll be able to use your MAC)
Revit can be downloaded via this link.  Please download version Revit 2021
Revit is not available in MAC version so if you are a MAC user, you can try to install a virtual PC environment and see if you can install Revit there. Your computer technician may have to help you with this.
Instructions to download:
Design Alive Manchester UK (or Design Alive) is listed under University/ Post Secondary school
You MUST choose the correct institution type or you wont find Design Alive on the list and we do not know how you can correct it if you choose the wrong institution type 
The area of expertise is architecture.
Only select the current month of start date and NOT a future month or you will get an error message We're experiencing some problems accessing your Autodesk account. Please try again later.
If you are having issues downloading Autocad and it's asking you for a serial number it is likely because your filter is blocking the program from downloading fully as a student version and you will need to be in touch with your filter company to add Autodesk to the approved lists. Techloq and NativUSA are known issues.
If you are experiencing other error messages then you may want to try to download through the virtual agent https://ava.autodesk.com/ who will give you an alternative link to download the software.
Autodesk does not have any phone suppport at all and their chat support is not always very helpful. If you experience issues with your download, we suggest you first contact Design Alive as we are VERY famiiar with alot of known errors and shoudl be able to assist you, Please email us a screenshot of your errror and we will do our best to help you.
If you experience the following Autocad error messages then please use the following.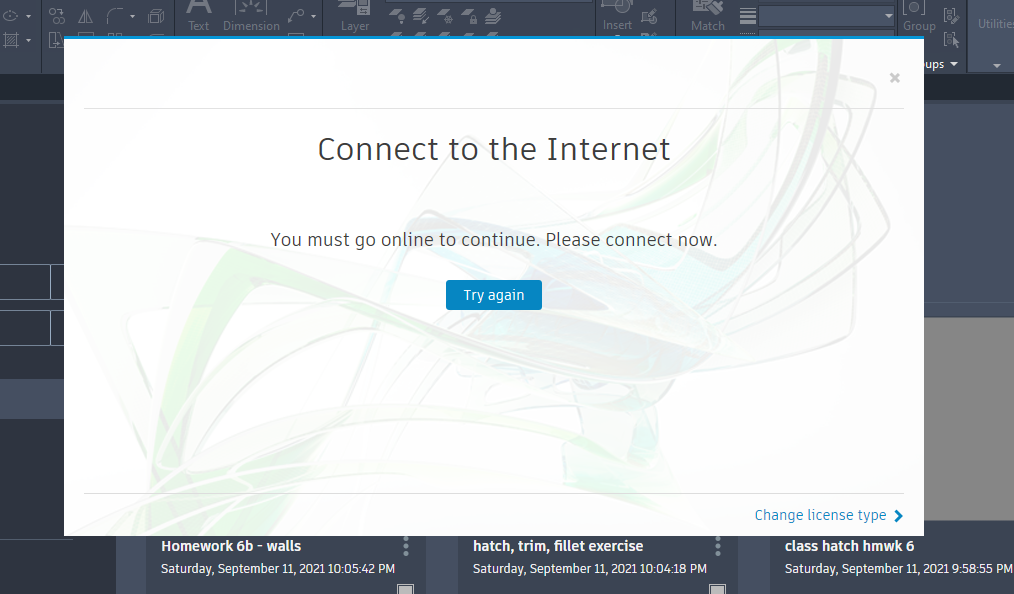 Step by Step screenshots for Downloading Autocad
Recommended Computer Specs