Registering for credits
For a full listing of each course accreditation details please refer to the NCCRS website. The course names may appear different to the courses you registered for. For an explanation of the course names please refer to the Accreditation page on the DesignAlive.com website
We advise any current student who would like to receive credits to register while / prior to doing the course rather than after completing the course, so that it will be easier to complete the extra assignments.
It is understood that only students who have successfully completed their course can use the credits received.
Only Design Alive registered students can register for credits. You can register for credits on the course registration page. Please note you must be logged in, or you will not see the credits option.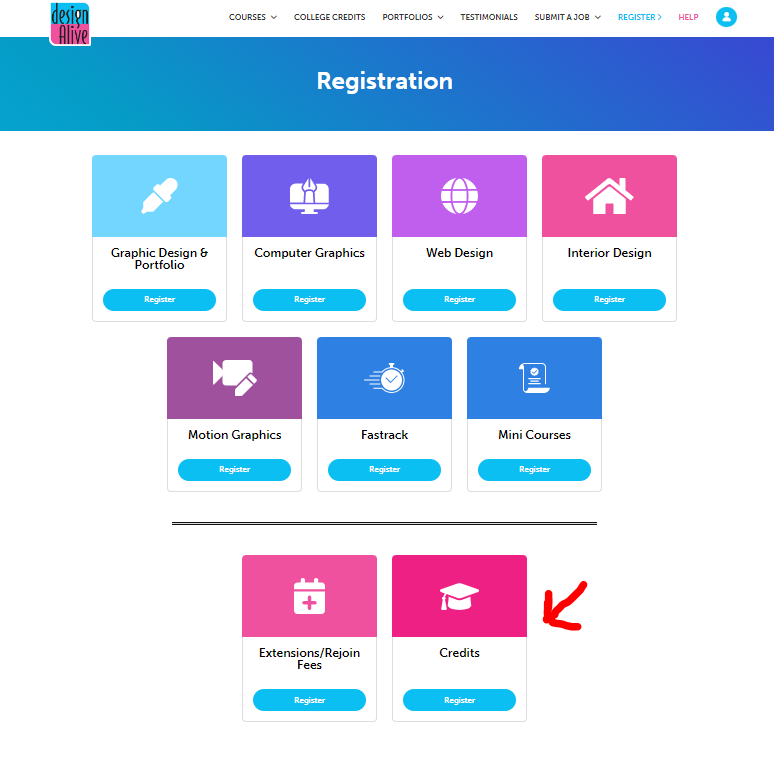 What are the steps to obtain credits for my course?
Register for credits. This fees are for retrieving and preparing your transcripts according to what course you want to receiving credits for. (see here for fee breakdown) Once your credit payment has been received, you will automatically gain access to a course on moodle to access the additional work or tests needed.
Complete any additional assignments: Most courses require additional tests or projects in order to obtain credits (see here for details).
Complete the work and notify simchi@designalve.com that you have completed the tests / assignments needed. We will send the work for grading if relevant.
Register for an account on Parchment

Design Alive has partnered with Parchment which will send your transcript via secure email to the college of your choice. Parchment charges a separate fee of $5 per transcript and an additional $2.50 to mail to a non-USA address. The transcript can include one or all of the courses you wish to receive credit for.
You need to login to parchment.com using this link and set up an account with Parchment. You need to specify where the transcript is being sent. You have 2 options to choose from;

Email or postal delivery from Parchment direct to your college
Email or postal delivery to yourself. (read point 6 below)

If you already have a Parchment account (from registering via another college) then follow the instructions below to ensure that you order the transcript through Design Alive or we dont receive the order.

Log into your student account via https://www.parchment.com/u/auth/login
Click the 'Add Another School or Organization You Attended' button.
When searching 'Design Alive', click 'Advanced Search' and select 'United Kingdom' in the Country Dropdown. Click 'Add'

Follow the 'Enrollment Info' prompt to finalize adding 'Design Alive' to your account and being placing a request.

If you chose to receive the transcripts to your own address, you will be responsible for submitting it to your college. Please be aware that your college may only accept transcripts sent directly from Parchment . Please note that a paper delivery only is valid for Excelsior college and the address is Office of the Registrar, 7 Columbia Circle, Albany NY, 12203-5159 USA
For personal assistance, fill out the form below: